Isn't he an absolutely beautiful baby boy? This little guy is full of potential and purpose, and is surrounded by love! He truly is a "billboard of mercy" displaying God's grace and tenderness to all who come into contact with him.
Parker is one of those precious children with so many heartbreaking medical issues, whose parents work hard, and have insurance, but whose medical expenses are just not covered because of gaps in the system.
This week, Melody is hosting a love fest for little Parker, complete with prizes donated by so many amazing and generous bloggers. You can learn more about this adorable little guy through this interview with his amazing mom published at TopBlogMag. You can track Parker's progress on his blog, prayingforparker.com.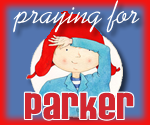 If you have a moment, please click over and offer up a prayer, and maybe a donation for this sweet baby, and his loving family.
We are truly, truly blessed.