THE INVITATION:

Whoopee!
Yea!
Hah. Lay. Loo. Yuh!
It's party time, it's party time!
And boy do I need a party!

The moms over at 5 Minutes for Mom are party planners extraordinaire, and they have put together a bloggity-world-wide party that will last ALL WEEK LONG!
There are lots of really great people to meet – a little music, a little chit chat, and even the chance to win some prizes!

(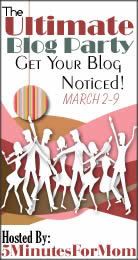 It's one of those simulcast, multi-location things, sort of like a progressive dinner, where you have cocktails at one house, appetizers at the next, and nibble your way house to house – course to course, until you get to the dessert and coffee! The idea is to eat lots of goodies, make small talk, and essentially revel in the party atmosphere.

So, you are officially invited!
Come party with me!

THE FESTIVITIES:

And since I'd like to think I live by the following mantra:

"Life's uncertain, eat dessert first!"

My stop on this celebratory circuit is gonna be all about the coffee and chocolate cake!

So let me show you to the coffee bar!

The barista can whip you up your favorite Starbucks concoction – lowfat, nonfat, decaf or leaded, with syrups, cream, anything you want!. Only the best for my blog-world friends! May I recommend this recipe?




If that doesn't suit your palate, customize your own.

And for dessert, I have the best chocolate lava cakes.




They are hot out of the oven, decadent, rich and creamy. Mmmmmmm. What's that? Do I have crumbs on my face? Oh! The recipe? I'm sure I have it laying around here somewhere, you're welcome to borrow it! (Don't tell anyone, but I got it from my book club buddy, The Thirteenth Tale" right now. It's sooooo good! The imagery and the characters just draw you in. I have escaped into books since I was a little gal. Yep, started reading at four, and haven't stopped yet. You should really check out this book, though. The closer I get to the end, the more I want to slow down and take my time, but I can't – the pages keep turning, and I can't put it down. Maybe Diane Setterfield has other books that I can devour, once this one is finished.

Another book that I just closed a couple of days ago was "Eldest" – the second installment in the Inheritance Trilogy, written by a very bright young man, who was homeschooled, Christopher Paolini. His first book, Eragon, he wrote when he was but a mere lad of fifteen years. It was very good. My son was inspired by Eragon, and later by Eldest, to start writing his own novel. He's about 1500 words in, and working on character development. I think that's pretty cool! Sadly, the third book in the trilogy isn't out yet, and I hate waiting. So if you hear of it being released, be sure to let me know!

I have another book I just began. It's the current bloggity book club read, authored by Beth Moore. It's called "Get Out of That Pit." If you're a quick reader, you still have time to get in on this one; discussion doesn't begin for another week. Check out the book club details here!

Oh, and I must tell you about this book I bought on the recommendation of Bev, over at Blessed Beyond Measure. It's called "Resting Place – A Personal Guide to Spiritual Retreats" by Jane Rubietta. Honey, there are no words…

I've been trying to decide what book I would choose as my favorite book of all time. (besides my Bible, of course.) That's a tough decision – I've been reading for 32 years. I'm not sure I can pick one, but I can tell you which authors have won my heart, and a place on my permanent collection book shelf. Here are a few more you should check out for yourself.

Joanne Harris
Gene Edwards
Fannie Flagg
Richard Paul Evans
Max Lucado
Sue Monk Kidd
Gregory Maguire
Brock and Bodie Thoene
Frances J. Roberts
Anne Tyler


PARTY FAVORS:

Before you leave, here are a couple of momentos for you take home with you!

If you are a book addict like me, I found a great place to get my fix! Zooba is my book-a-month club. It's simple. You register, browse their shelves, make a wish list, and for a flat $9.95 a month, you get a great hard cover book mailed straight to your door! It's like Christmas on the 19th of every month for me! This is where I found both "The Thirteenth Tale" and "Get Out of That Pit"!

If you are a book addict, who needs to get rid of some of the books piled on every flat surface, and tucked into every corner of your home, making it quite impossible to find a place for your guests to sit when they stop by for coffee and driving your spouse and kids to consider kicking you out of the house --- then check out this station, for an all access pass. Stop by the Starbucks bar for a refill before you go, and tell everyone what a great time we're having over here! Who knows, I might see you later this week at some of the other celebration sites – and maybe you'll even host a celebration of your own, and get a chance at those fabulous prizes!


Drop by for coffee any time!