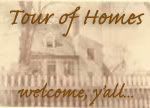 This post is part of the Bloggy Tour of Homes Tour - Organized by BooMama.  I found out about this tour through our own Xangite, p8indme, and you can tour more homes on either's site.
TODAY'S QUOTES:
"The road to a friend's house is never long."
~Danish Proverb
"One hundred years from now, it will not matter what my bank account was, how big my house was, or what kind of car I drove.  But the world may be a little bit better, because I was important in the life of a child."
~Forest Witcraft
"Through wisdom a house is built, and by understanding it is established; by knowledge the rooms are filled with all precious and pleasant riches."

~Proverb 24:3-4, New King James Bible
*~*~*~*~*~*~*~*~*~*~*~*~*~*~*~*~*~*~*~*~*~*~*~*~*~*~*~*~*~*~*~*~
We purchased our home only four months ago, and it is still a work in progress.  We still have boxes of stuff in the closets, and in every room, there are unfinished projects.  But we love to have friends and family come to visit.  They often remark, while sitting at my table, that it feels like home.  That makes my day!
So, come on in, the door is open, and if you have a while, we can drink some coffee or tea, and chat a while.
In the cool of the Spring, I sat on this porch and watched the clouds, and neighborhood kids fly by.  The flowers are Sarah's project, and they are just beginning to bloom. 
The flag is a constant.  I am very patriotic, and fly my flag daily in honor of my grandfather, my brother in law, and all the other soldiers who serve our country, so I can sleep safely at night.  I can't wait until this fall, when I can return to the porch to contemplate nature and other deep thoughts, but right now the outdoor thermometor reads 98 degrees, and it's too hot to be outside, so COME IN!
Yes, the welcome mat is well worn, and dirty.  I guess that means we enjoy many guests.  the grass on the porch also says I am too busy to sweep.  Oh well, at least I can say that the welcome mat does its' job well!
As per the rules, here's the first 'required' photo.  Eventually this door will be brick red, in order to better welcome our guests.  I bought paint yesterday, but it may take a while before I get to it.  The knocker, through which the wreath ribbon is threaded, was a gift from my son, Jotham.  I don't know whether you can make it out, but it is a lion's head. My son is a great fan of Narnia and Aslan.
When the weather is nice, my front door is usually open like this.  I love to be able to see out into the street, and to present a welcoming sight for any guests.  I do lock the glass door, though.
Since the weather is pretty warm, go ahead and close the door.  Helps my A/C cool the place!  The sign over the door reads "Blessings", and that is my prayer for anyone who crosses the threshold.
Toss your keys in the basket or the bowl by the door...
Here is where I break from the rules, and instead of showing you the unfinished sheetrock in my family room, I will show you the library.  Technically, my family spends more time in this room than the family room anyway.  We homeschool, and this is where my kids do their school work, update their Xangas and MySpaces, and IM with their friends. Networked computers help me grade papers and retrieve files digitally.  I love it.  It's the next best thing to wireless networking -- which I enjoy on my laptop!
My husband built the bookshelves, and they are un-stained.  We will be staining them someday.  It's on the to-do list.  The fireplace is one of two, and I can't wait to light a fire, and put up Thanksgiving and then Christmas decorations.
The walls I did myself.  They are a faux finish of "October" (orange) and "Autumn" (gold) and look better in person than the camera allows.  When I was painting them one afternoon, my neighbors across the street thought the room was on fire.  It was really funny.  The hardwood floors were stained by my husband Larry and my daughter Sarah.  She had brown feet for weeks afterwards.  It was a riot.  But now they are beautiful!  Between these chairs is a basked with more books.  It's where I read my Bible, and pray, read my magazines, and talk with the kids when they are in a chatty mood.  These chairs are also the favorite perch of my three cats, who were strangely absent when I pulled out the camera.  Let me brush the cushion off, before you sit down, so you won't leave with cat hair on your backside.
No, I am not neurotic about knowing the time, but I do love clocks.  The library is my clock room.  This little table holds a TV/VCR Combo, perfect for educational videos, and in the summer, it doubles as a Playstation / XBox location.  (One of three in a house of five teenagers.)
One of the required photos for this tour was a shot of where I do my blogging.  My desk, built by my husband, sits in the corner of my kitchen.  I am surrounded by four dry erase calendars, to help me keep track of stuff for the mortgage company I work for, the publisher I work for, our church's youth outreach and our household stuff.  Above my laptop is a huge whiteboard where I post pics of my kids, and write important notes and phone messages.  I have twelve different colors of dry erase markers, because I am a very visual and creative person, and need lots of space and color to write/think things out.
My desktop is unusually clean today, but I have my cup of honey green-tea, and I am ready to write!
My kitchen is decorated in Coca-Cola memorabilia.  I posted a while back about the fact that I don't drink Coke - but love the new Coke Blak.  Above my calendars I have coke tins and post cards, matchbooks and marbles.  In this shadow box I also have several mini Coke bottles, one from Israel, and two that were bottled in 1912.  The Coke in them has turned to an oily black sludge.  (The white box you see is a very loud alarm.  It only sounds when we accidently type the wrong code into the system.  It would scare away any would be bad guys, though.  And probably leave them deaf for several days.)
This counter, opposite my desk holds all the bills and mail.  In the cabinets and drawers are all my school books, my notebooks, paper, pencils, post-its and such.  In the red frame above the light switch are several hand-written receipts for Coca-Cola delivery.  The oldest dates back to September of 1938, where the charge for a case of Coca-Cola totaled 80¢.
The rest of the kitchen is pretty normal, with touches of Coca-Cola througout.  Yes, those are dirty dishes in my sink.  But they will get washed today.  In fact, we run the dishwasher twice a day, and still, dishes in the sink are unavoidable.  One of the by-products of a house full of hungry teenagers.  I wouldn't trade full sink for an empty house, though.
Here's the stove, and the one-cup coffe/tea maker.  My cup is on the counter, now.  Waiting for my daughter to finish making her coffee, so I can have anothe cup of tea.  Would you like a cup?
This counter leads on back around to my desk.  The two rooms you've seen so far are where I spend the majority of my days.  I used to have a tiny kitchen, and in the family room we set up four computers, the dining room table a couch and a tv.  We didn't really have room to move without bumping into each other.  This house is such a blessing.  I am grateful.
The last room on the tour is my master bedroom.  It is huge, and I love it as well.  The bed is situated on the red accent wall, and the other three walls are gold.  If you don't have one of those space age foam matress toppers, I highly recommend it.  I don't wake up feeling so old in the mornings since we bought ours.  This room has two seating areas.  The recliner faces the television, and on the opposite wall is a black iron chandelier I made from a pot rack and tealight lanterns.  It looks really cool with candles lit.  I plan to put a black iron bistro set under it, so we can have an occasional romantic dinner behind closed doors. 
On the wall opposite the bed is this huge clock.  It measures 2 1/2 foot square.  It sets itself by radio control, and tells us the temperature and humidity.  It is supposed to be a patio clock, but the black iron went so well with my bistro set idea, that I couldn't resist.  Besides, I never have to wake up at night and wonder what time it is.  I can see this clock in the dark without my glasses.  This spring, when daylight savings time kicked in, I stayed up until 2:00 am to see this clock "spring forward".  The hands moved of their own accord -  from 2 o'clock, forward to 3 o'clock.  It took a full fifteen minutes.  I wonder how long it will take it to "fall back".
Well, I am so glad you came to visit.  I am sorry I have talked more than listened.  Why don't you grab your coffe, and we'll have a seat.  You can talk for a while, and I'll listen.  And if you have to leave, then please come back soon!